Ingredients
Cupcakes
1/3 cup peanut butter, creamy
1/4 cup chocolate chips
2 scoops Ascent Chocolate Micellar Casein
1/4 cup oat flour
6 tbsp cocoa powder
1/4 cup sugar free maple syrup
1 egg
1 egg white
3/4 cup applesauce
2 tbsp. Truvia
6 double-stuff Oreos

Chocolate Peppermint Protein Frosting
6 peppermint Hershey's kisses, melted
2 tbsp dark chocolate chips, melted
1-1/2 scoops Ascent chocolate casein
4 tbsp almond milk (to get a thick smooth frosting consistency)
Notes
*Truvia is a stevia/cane sugar blend. It has about ⅓ the calories of sugar but still bakes like sugar. It can be found in the baking aisle of most grocery stores. If you can't find it, 4 tbsp. Of regular granulated sugar will work!
Instructions
Preheat oven to 350F. Add chocolate chips and peanut butter to a microwave safe bowl. Microwave for about 60 seconds. Stir until completely melted and mixed together.Add all remaining cupcake ingredients except for Oreos. Gently stir together until a smooth, thick batter is formed.Fill 6 spots in a muffin pan about 1/3 of the way with batter. Add an Oreo to each. Top with remaining batter.Bake for 8 minutes at 350 or until a knife comes out clean. Be careful not to over-bake, or they will dry out. Once baked, let completely cool. Can put in fridge/freezer to speed the process up.

To make chocolate peppermint protein frosting, add peppermint Herhsey Kiss' and dark chocolate chips to a microwave safe bowl. Microwave for a total of about 90 seconds, but mixing after every 30 second interval.Add casein protein powder and almond milk. You will need to mix pretty vigorously to get a smooth frosting since it will be thick.Top each of the cooled cupcakes with frosting, and another peppermint Hershey Kiss if desired. Enjoy!

Nutrition per cupcake with frosting (out of 6): 340 calories, 22 protein, 31 carbs, 16 fat, 4 fiber, 16 sugarNutrition w/o frosting roughly 100 calories less per cupcake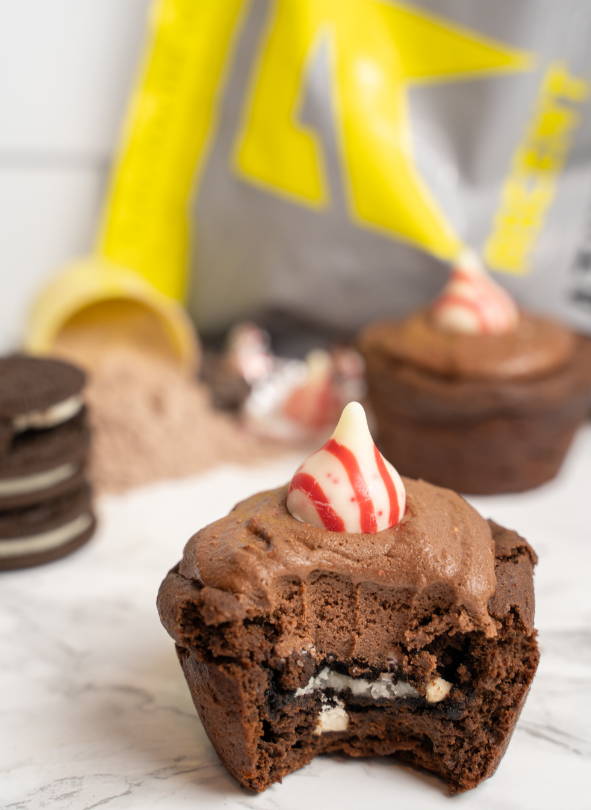 ---